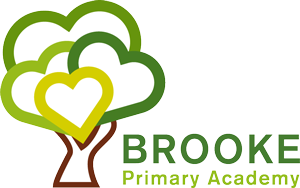 A Venn Academy Trust School
– Together we will…
Venn is a pioneering academy trust, committed to building educational environments where all pupils are inspired to become lifelong learners who achieve the very highest standards possible.
Collaborating with all partners, the Trust works with its unique settings to create world class learning experiences for all.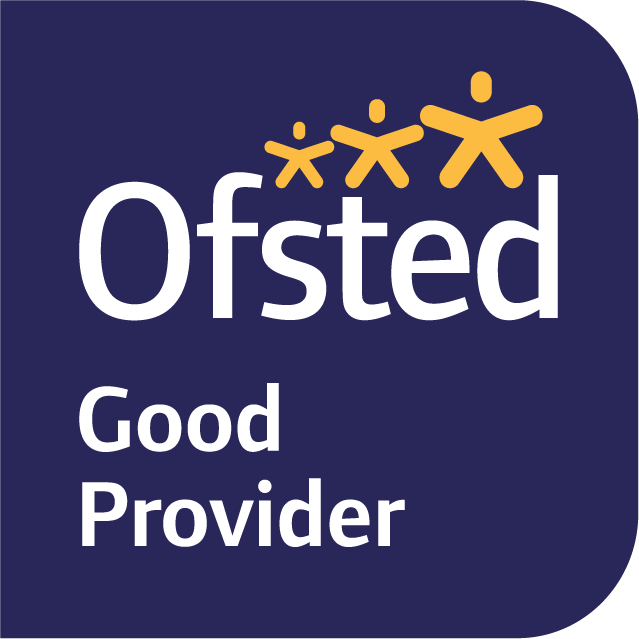 Personal Development at Brooke
At Brooke Primary Academy, the personal development of each and every child is extremely important to us. We have designed our curriculum to provide memorable and inspirational experiences for the children. Our curriculum extends beyond the classroom; we offer opportunities for our children after school, during school holidays and at weekends; experiences that develop the whole child and which they will remember for years to come.
A sample of what we offer is listed below.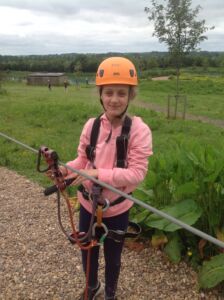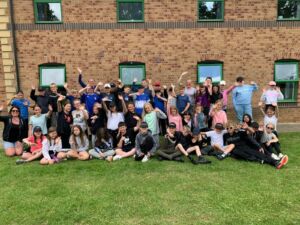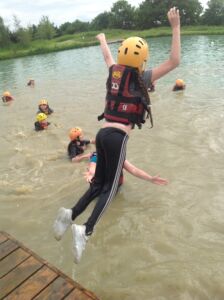 Residentials
During KS2, each child will have the opportunity to attend a residential or activity day. The experience develops the whole child, focusing on developing our Brooke values. The activities provide opportunities for the children to work together, developing confidence, resilience and perseverance. We have carefully selected the locations of the activities to further support our academic curriculum, including venues in the local area and other partrs of the UK
Year 3 – 1 day team building activities at Go Ape
Year 4 – 2 day, 1 night outdoor adventure and camping at Austerfield / Castleton
Year 5 – 1 night camping / sleepover at The deep (Hull)
Year 6 – 3 day, 2 night outdoor adventure and camping at PGL Lincolnshire / London City break
The Values Compass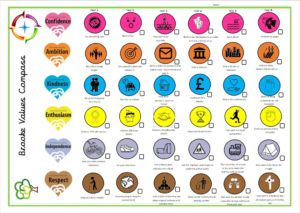 At Brooke Primary Academy, in collaboration with our children and parents and as part of our bespoke curriculum, we provide opportunities for our children to develop essential skills and engage in 'memory making' experiences, linked to our 6 school values.
Each 'opportunity' helps to develop our Academy values, providing key life skills and above all, ensure that our pupils look back on their learning journey with pride and fondness.
Out of Hours provision
Our role does not finish at 3.15. We work closely with local companies and the community to improve the range of available activities for the children at the end of the school day, at weekends and during the school holidays.
Extra Curricular clubs – our offer caters for all interests, including sport, arts and crafts, drama and music.
Family and Friends events – throughout the year we offer events and activities to involve parents, children and the residents of our community. Events have included The Choir and Orchestra concert, Rugby League weekend matches and Fruit picking in our orchard over the summer holiday.
Holiday Club – working with KIXX and supported by HAF funding, throughout the school holidays we provide free activities and events. The clubs are available to children across Doncaster. During the 2022 summer holiday, our offer covered the full 6 weeks, with activities including bouncy castles, We Can Grow, Caged Steel Martial Arts and bikeability, all free of charge!
Youth Club – From September 2022 we will be running a Friday Youth Club for children in years 5 – 7.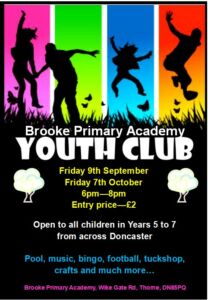 Young Leaders
We have a range of leadership roles available to the children throughout the year, including:
Student Council Representatives
Healthy Learning Healthy Lives Representatives
Community Ambassadors
Maths Champions
Librarians
Reading Champions
House Captains
To find out more, please see the separate tab on the website.
Further information and resources
"A football player because I like playing sports. I think being a good writer would help me so I know how to sign contracts."
What would you say to a child who is worried about joining this school?


"We will look after you and help you."
" My dream is to be a nurse or a doctor. I need to be able to read, to write, to spell people's names."
What do you like about the teachers?


"They make me feel safe."
"PSHE links to real life and I like that. PSHE is about me and the real world. "
What is your favourite subject and why?


"Topic and Art are my favourite lessons because they push me to my limits and are fun."
What do you like about the teachers?


"They are helpful and kind."
What is the best thing you have done in school?


"I really enjoy playing for the school football team."
What is the best thing you have done in school?


"The best thing I've done at school was going to William's Den and building my own den."
What is the best thing you have done in school?


"I enjoy the school trips to the museum so I can learn."
"I like PSHE because you get to learn about real life."
What is your favourite subject and why?


"Art because I like drawing and sometimes my work goes on the wall."
What do you like about the teachers?


"They tell jokes and help us learn."
What is your favourite subject and why? –


"I love P.E. because I am a real sports person and enjoy being creative."
What is the best thing you have done in school?


"I love the school trips and when we go to the church to sing."
What is your favourite subject and why?


"Art because it calms me down and it's great fun."
What is the best thing you have done in school?


"Everything. I enjoy every single second of school."
What is your favourite subject and why? –


"Maths because I love numbers and adding."
What is your favourite subject and why?


"English because I love writing stories and poems."